Country Mix
Enlivened country colors and patterns combine for a cheery, casual tone in this bedroom. On windows, simple bamboo blinds offer privacy, while floral draperies offer greater scale and visual impact. The bed linens and drapes work in sync to create an inviting retreat with the mix of sunny-yellow accents and blue-and-white cotton fabrics in checks and floral.
Graphic Punch
This bay window offers a triple dose of flair with its electric blue-painted trim and walls, multipane windows, and neat window dressing. The window treatment, working as a singular unit, combines a traditional valance with drapery. Solid neutral fabrics trimmed in Greek-key banding add interest while balancing out the strong visual punches in this cozy vignette.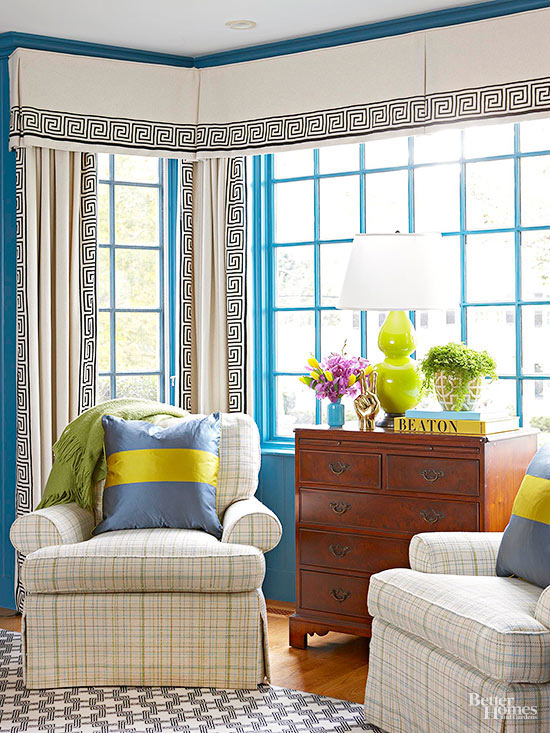 Draperies as a Frame
In this nursery, drapery panels are hung high to maximize the effect of the peaked ceiling. The curtain rod is situated as high as possible, adding drama to the standard-size window. A collection of white plates makes an interesting grouping that fills the empty space between the panels above the window.
Note: In kids' rooms and home where kids live, secure cords to ensure they won't become a hazard, or opt for cordless window treatments.
Say Goodnight
A wall of windows in a bedroom is pretty for daytime views, but nighttime calls for heavy, dark draperies that can block the light. A single rod, hung just below the crown molding, supports a pair of wide panels that draws across the three windows for privacy. Art on the walls is dramatic in scale, playing to the bold navy draperies.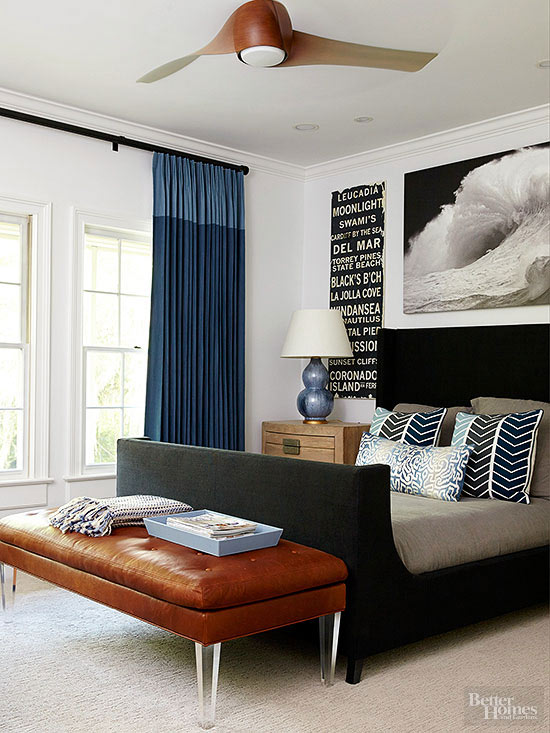 Pretty and Playful
Mixing and matching youthful patterns in restful hues of lavender and aqua, this bedroom showcases the same fabric on the draperies and duvet. Pops of blue in accents play off the color of the lattice-pattern wall covering. The organic pattern in the purple fabric is a happy contrast to the geometric wall treatment.
Perfect Backdrop
Letting the accent wall of hand-stenciled orange triangles take the stage, draperies are white, light, and airy enough to recede into the background. The sheer fabrics add just enough softness to the edgy Boho fabrics and modern mix of furnishings. Mini blinds on the window filter in soft light.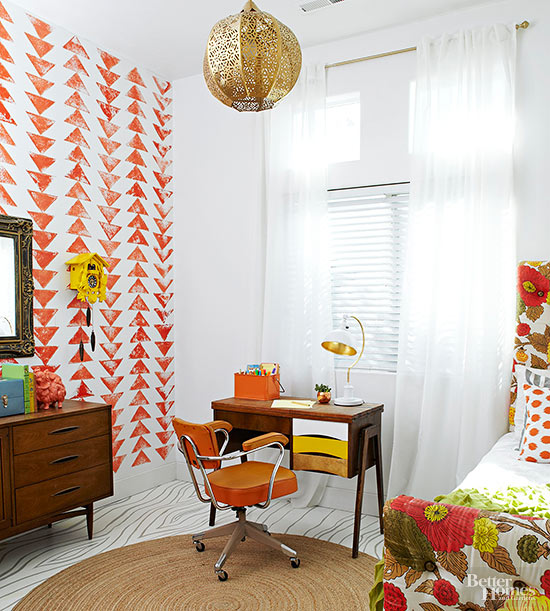 Quiet Drama
When it comes to contemporary design, simplicity is key. In keeping with a classic black-and-white color scheme, window treatments display a modern vibe. White panels suspended from rings on a simple black rod cue graphic art and furnishings while playing to minimalism.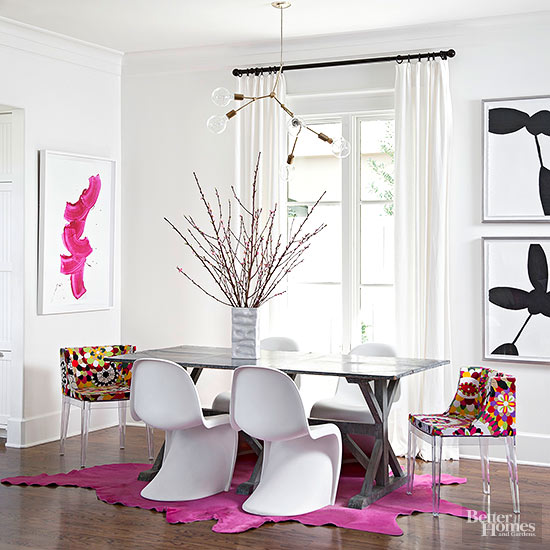 Restful Retreat
Wrapping this bedroom in a swathe of fabric, pinch-pleat draperies suspended from a thin metallic gold rod frame windows and cover the wall behind the headboard. The fabric's hues, soothing blue that fades to cream, set the tone for a restful retreat.
Harmonizing Hue
The vibrant green color in this bedroom looks freshly picked from a Limelight hydrangea. The soft garden hue is repeated in artwork and painted furniture. Floor-to-ceiling draperies in an oversize floral print on corner windows add even more impact to the green-and-creamy-white color scheme.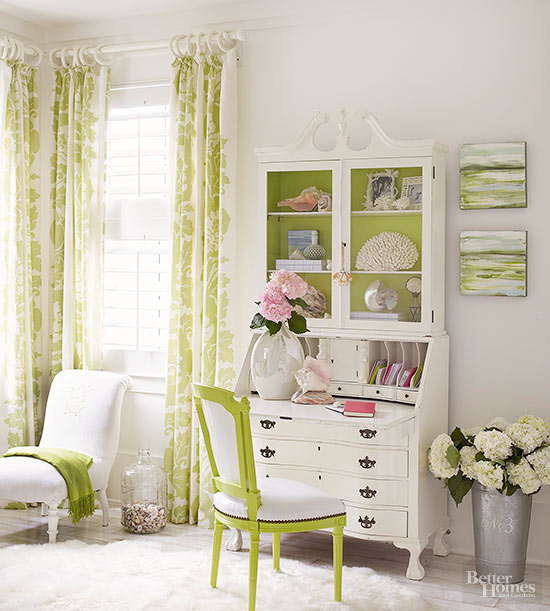 Sunny Disposition
Cheery yellow draperies add instant sunshine to this bedroom. The buffalo-check pattern intentionally harmonizes with the checked rug and pair of square ottomans, underscoring the graphic appeal. Bamboo blinds add more texture and picks up on muted gold tones in the starburst mirror and nailhead trim.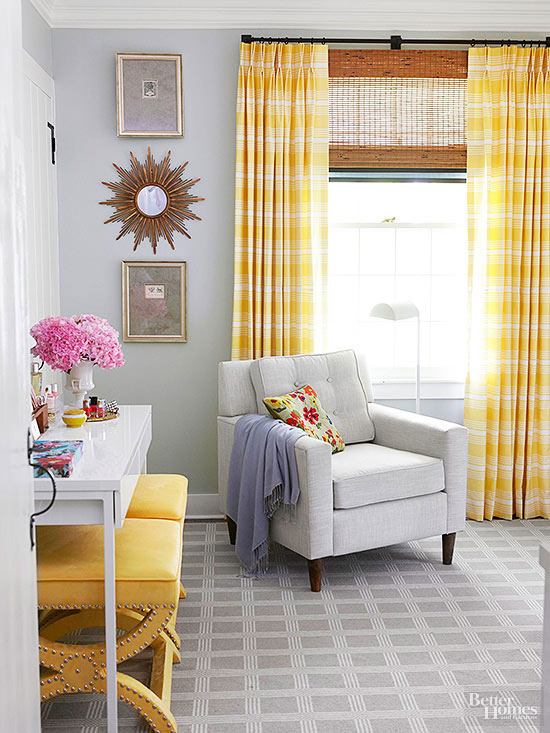 Reinforce a Theme
Bold red-and-white horizontal stripes give draperies extra punch. Turning this wall of windows into a stunning focal point, the red-and-white cotton fabrics and sea-blue walls make this traditional dining room worthy of coastal views. Illustrations of sea creatures above the buffet add to the seafaring theme.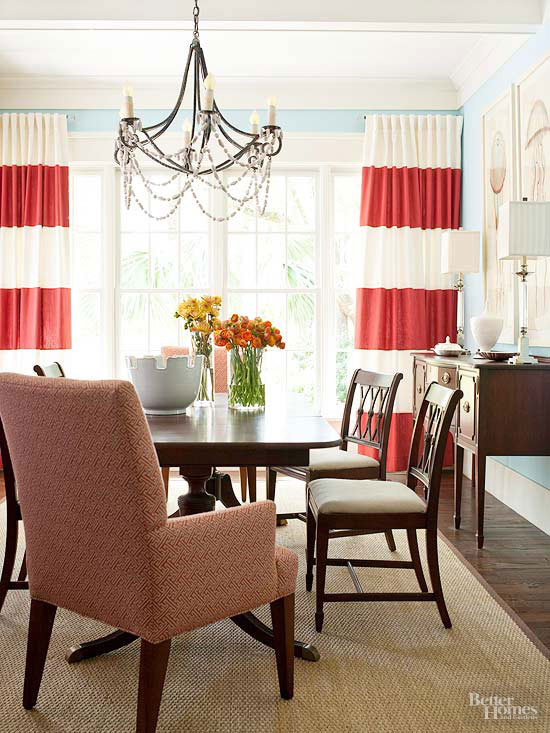 Triple Play
A bay window frames a pair of chairs in this seating area. Because of the weighty molding, window treatments are simple. Each window showcases a single panel suspended from a tension rod that fits neatly at the top of each window frame. The window-width floral fabric can pull closed for privacy. Left open, the semitransparent fabric filters in light.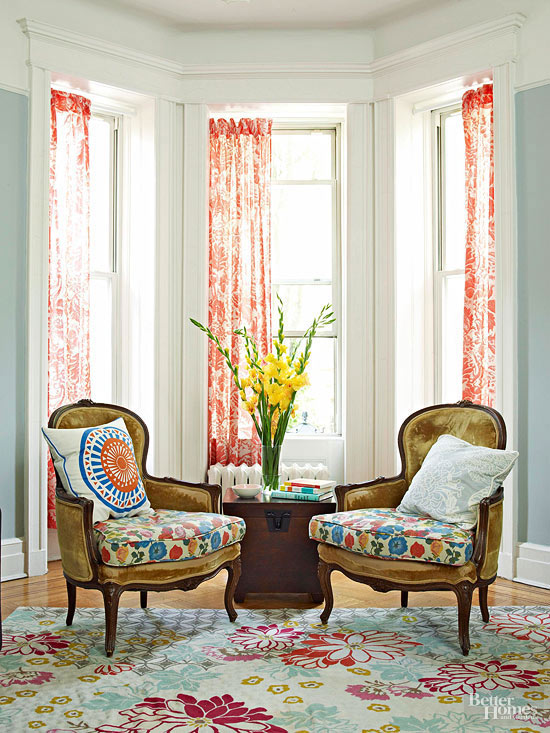 Royal Treamtent
With two walls framed by windows, this bedroom called for ample window treatments to soften the window's trim work. Sheer purple drapery panels hang from rings allowing for ease when opening or closing. Offering privacy as well as wrapping the room in softness, the cocooning effect is ethereal and soothing.
Double Up
Framed by angled walls, a dormer-style window in this cottage bedroom receives a double window dressing. To block light, a neutral Roman shade hangs against the window. A sheer single panel on top picks up on the girlie pink and welcomes daylight. Bunched on the rod, the panel pulls aside easily. A pretty purple sash adds dressmaker details.